Refresh your StarAudit Accreditations (FD, PF, IA)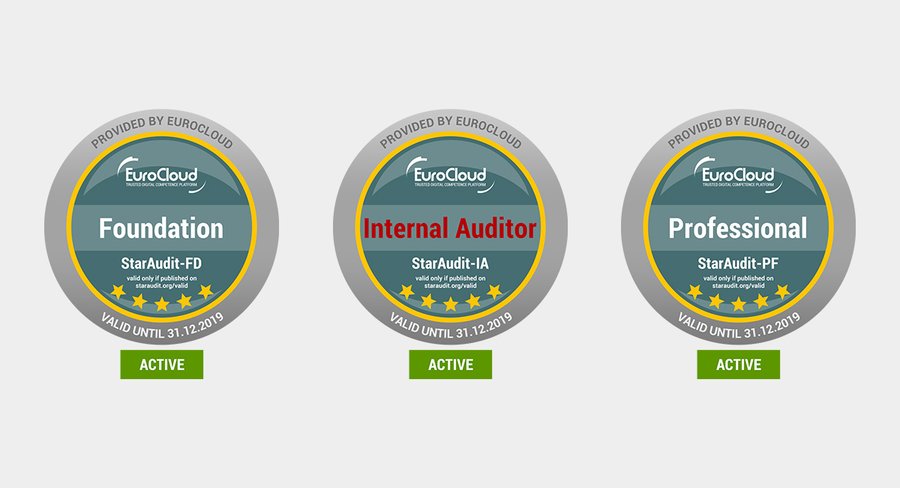 During the past 12 months we have worked very intensively to update the StarAudit catalogue to Version 4, which was finally released in June 2019. In the course of revising the catalogue, the StarAudit Academy was likewise updated.
NEW QUESTIONS
The existing pool of questions about accreditation was extended with 60 new questions and thus effectively doubled in size.
NEW CONFIRMATIONS
The confirmations generated upon successfully completing a course were adapted to the current design.
REFRESH ACCREDITATION
In addition to the new versions of existing Ambassador, foundation, Professional and Internal Auditor courses, the course "Accreditation Refresher 2019" was implemented to provide you with an opportunity to refresh and reaffirm your knowledge. Like the existing courses, the Accreditation Refresher 2019 course includes a training test for up to 10 training rounds as well as the actual accreditation refresher test.
WHY REFRESH ACCREDITATIONS?
Due to the extensive changes to the contents of the StarAudit programme, we believe it is important that we refresh your knowledge concerning some of the principles of EuroCloud StarAudit. For this reason, all accreditation levels with the exception of "Ambassador" have been flagged as invalid respectively expired (https://staraudit.org/valid/). In order to reactivate these accreditations, the accreditation refresher process described in the following will have to be completed once.
HOW TO REFRESH YOUR ACCREDITATION
Three steps are necessary to refresh your accreditation:
You will need to pass the accreditation refresher test. To take this test, please log in at https://academy.staraudit.org/ and sign up for the course "Accreditation Refresher 2019". There you will find two tests: "Training Test StarAudit – Accreditation Refresher" & "Accreditation Test StarAudit – Accreditation Refresher". As usual, you will be allowed to take the training test (Training Test StarAudit) up to 10 times in order to prepare for the actual accreditation refresher test. The "Accreditation Test StarAudit" contains 18 questions, at least 60% of which must be answered correctly to pass the test. You will have 3 attempts to do so. By successfully passing the test, you will already have taken the most difficult step of the process! To complete this first step, generate a confirmation via the menu item "StarAudit – Accreditation Refresher Certificate" and save it.
An Assessment Report using catalogue version 4.0, rev01 must be generated. To generate this report, log in to the StarAudit Assessment Tool at https://assessment.staraudit.org/ and create a new project. Give your project a name, add the assessment "StarAudit FULL (v4.0, rev01)" and save the structure. Now fill out Area 07 for a use case of your choice, then generate a report by selecting the new project from your project overview page and clicking "PRINT". This will generate a report in PDF format. Save this PDF file to complete the second step.
Upload both generated documents, i.e. your "StarAudit Accreditation Refresher Certificate" as well as the Assessment Report, at https://staraudit.org/partner/become-a-partner/application/. To do this, please use the form that appears when you select the checkbox "Accreditation Refresher 2019" under "ACCREDITATIONS FREE OF CHARGE FOR INDIVIDUALS".
Once the upload is complete, we will verify your documents and get back to you as soon as possible.

See also:

#