Austria's first quality seal for cloud services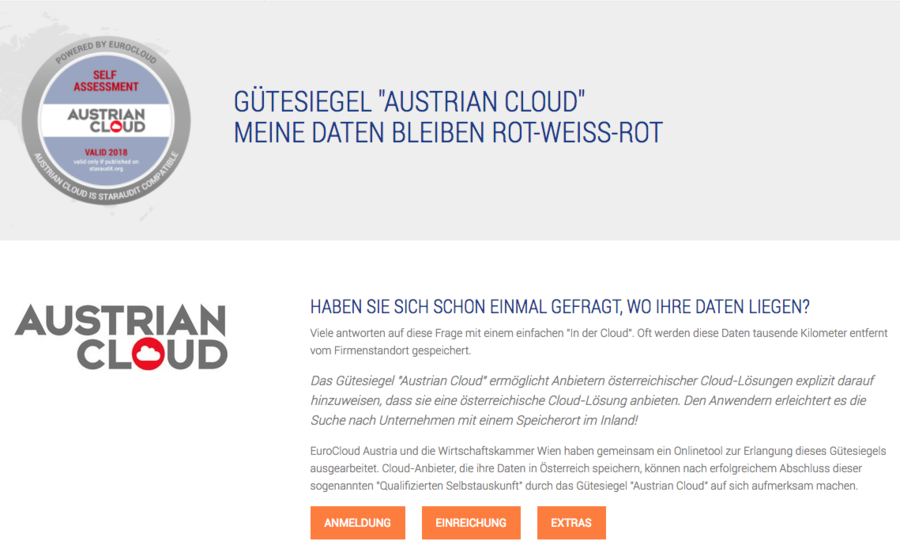 Since 12 April 2018 the opportunity exists to officially register for the "Austrian Cloud" certificate of quality, Martin Puaschitz, chairman of the responsible section, explains. Using an online tool, 90 questions on the cloud services per se, the contract, security standards, and the operational quality are examined. Martin Heimhilcher, chairman of the Information and Consulting division, points out that the award can only be claimed by service providers who exclusively store their customers' data in Austria.
Tobias Höllwarth: "Austrian Cloud is a first step in the right direction. Companies that have already achieved this seal of approval, will find their's is a small leap to the fully-fledged EuroCloud StarAudit self-assessment. For these Austrian top cloud providers, it is subsequently possible to obtain a comprehensive, internationally valid cloud certificate: the EuroCloud StarAudit, which distinguishes the cloud services of Fabasoft, the Ministry of the Environment or that of the industrial company Endress + Hauser."
"Austrian cloud providers aiming for high quality standards should be supported and Austrian Cloud, in this regard, functions as a first means of introduction to a proper quality assurance and certification model. That is why EuroCloud supports the initiative of the Chamber of Commerce."
EuroCloud is a provider-independent nonprofit organization. EuroCloud StarAudit is the only European cloud-certificate used worldwide. StarAudit certifications are conducted by independent auditing companies such as SGS, ecoIT, TUV and others. Tobias Höllwarth is CEO of EuroCloud Austria and Executive Director of Sourcing International.
Links:
Kontakt:
Dr. Tobias Höllwarth (tobias.hoellwarth@eurocloud.at)

#